A little about me...



I am a stay-at-home, happily married mother of two darling girls. I also have in my life 2 dogs, 3 cats, a parakeet, a fish, a turtle, Sky Victoria, Celtic Sky, Sky's Little Peavine, Arab, Destiny, James, John, Zacchaeus, and of course Sparkey.

I'm training horses and riders now at our barn, Trinity Stables. Hubby, Tom, is helping with the daily caretaking of the farm, along with his full time job at Accuride.



WHERE ARE WE NOW?



Currently we are showing in First Level Dressage. We are solidly training in Second Level with very nice results. He is calm, forward, straight, and just an absolutely beautiful mover. I've started jumping him (now up to 2'6" level), and will be showing him very soon in hunter classes.



I have a couple of horses in training which are coming along nicely. Most of the issues (as with any horse) are people issues, that have been left un-fixed. They are comming along nicely, and on schedule.



I have several riding students right now...and am planning a weekly camp next summer for adults and/or youngsters. Primative camping is available, or you can come daily.



Email me for more information.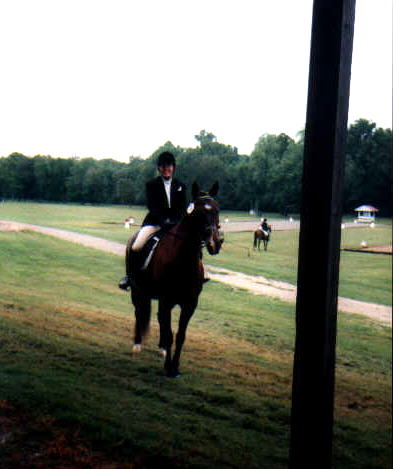 FAVORITE SCRIPTURE
Matthew 10:32-33


"Whoever acknowledges me before men, I will also acknowledge him before my Father in Heaven. But whoever disowns me before men, I will disown him before my Father in Heaven."