Welcome To Trinity Stables


"Where the love of Chirst and horses combine."

Horseback Riding
Located just a stone's throw from Henderson, KY, Trinity Stables offers the accessibility needed for everyday care, with the tranquility of a country setting.


We offer:
***enclosed outdoor arenas just for schooling
***15 acre cross country jump course (also nice for trail rides)
***Training and boarding by safe, knowledgeable Caretakers
***20 acres of turn-out pasture with lots of "elbow" room for the horses
***24 hour security with cameras



Open Mon.-Sat.
Please call ahead
CLOSED SUNDAY
(Although boarders are always welcome to ride and visit thier own horses, no guests are allowed to ride, and no Trinity horses will be used off hours.)



PHONE
(270) 521-1854
FOR MORE INFORMATION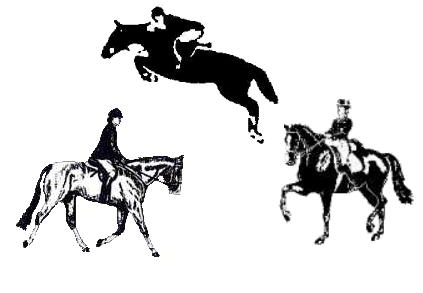 BOARD FEES (per month)

FULL CARE BOARD - 250 per month -
Includes stall usage, cleaning (6 days per week), turn out in pasture, feeding, indoor hay, watering, outside salt, and arena usage. ~All you have to do is come and ride!~


FULL BOARD + TRAINING - 350 per month -
Includes above, plus training of your horse (3 days per week).


PARTIAL BOARD - 150 per month -
Includes feed, water, pasture, and arena use. Owner is responsible for all hay costs.
#Horse does not have access to stall or barn.#


OVERNIGHT STABLING - 25 per night -
For traveling horses. Includes stall(and cleaning), hay, water, private turn-out (when available), and arena use. Hotel accomodations can be made for their owners if required. Proof of Coggins (within 1 year) and vaccinations (between 4 weeks and 6 months) are required.


**All owners are responsible for their own vet and farrier bills plus any extra/special feeds and/or supplements.


5 charge each time for holding horse for vet. or farrier.
25 per month charge for blanketing horse.

LEGAL STATEMENTS:



**UNDER KENTUCKY LAW, a farm animal activity sponsor, farm animal professional, or other person does not have to eliminate all risks of injury of participation in farm animal activities. There are inherent risks of injury that you voluntarily accept if you participate in farm animal activities.**



***While every effort is made to make Trinity Stables as safe and secure as possible, Trinity, it's owners, employees, and associates are not liable for any accidents, injuries, or thefts to animals and personal property kept at the stables. Personal property must be kept in the assigned space and kept locked up.



***A Boarding Contract must be signed by all boarders.



***Payment for board will be due the 1st day of each month plus one month advance security. 30 days advanced written notice must be made in order to receive a refund in security. Refunds will not be made for a partial board month.



***Payments not received by the 9th of each month will be charged a 10% late fee. If board has still not been paid by the 30th day of the written bill, the horse will be put outside in a secured holding pen and legal action will be taken to settle the account. Boarder will be held responsible for all fees resulting from the legal action taken.



***Helmets are required at all times when mounted.




Health Schedule



Our Vet Schedule is as follows:

Mid-March:

TEETH FLOATING

SHEATH CLEANING (geldings)

COGGINS (e.i.a. screening)

OVERALL CHECK-UP

VACCINATIONS

encephalomyelitis (east.,west.,& ven.)

influenza A1 & A2

tetanus

strangles (when needed)

rhino

phf

rabies




+++++++++++++++++

Mid-September:

CHECK TEETH

OVERALL CHECK-UP

VACCINATIONS

influenza A1 & A2

strangles (when needed)

rhino




++++++++++++++++++

WORMING AS FOLLOWS: Jan.1 (safeguard), Feb. 15 (strongid), April 1 (equimectrin), June 15 (quest), Oct. 15 (equimectrin).



A NEGATIVE COGGINS AND PROOF OF VACCINATIONS MUST BE SUBMITTED BEFORE UNLOADING AND BEFORE MARCH 1 EVERY YEAR AFTERWARD.



Trinity Stables recommends and uses Wills Animal Hospital, Dr. Steven J. Wills, DVM, 3030 New Hartford Rd., Owensboro, KY
(270) 684-3201


LESSONS AND PRICES
Lessons are available by qualified Trinity trainers in english and/or western. The charges are as follows:


25 for 1 hour per student or horse


15 for 1/2 hour


40 for 1 hour of group lesson (maximum of 4 riders)


PONY RIDES -10- for all of the youngsters (maximum weight of 60lbs)


20 per person facility use fee
(guests and outside instructors are welcome to use our arenas and jumps, however, they must make an appointment for arena use, pay the facility fee, and sign a liability waiver).


50 per day rental of cross-country course. You must tie to trailers, and reserve at least a week in advance. No refunds for cancellations.


$????? Clinics (Clinics will be held at regular intervals by different clinicians. Prices vary depending on their fees. All Trinity boarders will be given priority reservations over outside people.)


Birthday Parties - during warm months only (rain or shine). Includes facility use and pony/horse rides. Price starts at 50 for up to 10 children for 2 hours. 5 for each additional child.


Groups - 5 per child. Includes lecture about horses, anatomy, equipment, care, tour of facility, and hands-on grooming. Lasts 2-4 hours. Please bring a sack lunch. Call at least 2 weeks ahead to schedule.


Summer Camps - includes meals 250 per week
*NEW*
We combine Bible Study with Riding Lessons. See link to "Forms" on the "contact page" to get an overview of our day's activities. You and/or your child will have a BLAST!

OVERNIGHT CAMPING (Primative). Tents are supplied, please bring your own sleeping bag and/or cot.

Send an email
Philippians 4:6-7 (NIV)
Do not be anxious about anything, but in everything, by prayer and petition, with thanksgiving, present you requests to God. And the peace of God, which transcends all understanding, will guard your hearts and you minds in Christ Jesus."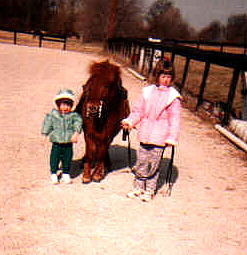 Zacchaeus offers pony rides...
Zacchaeus (Zac for short) arrived to our farm via Santa's Sleigh in 2001 and has quickly pushed his way into every heart of those who visit.